"LIVE / MONOTYPES"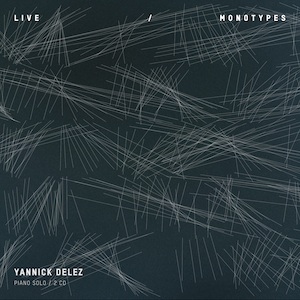 TRACKS LIST


CD1 | LIVE
Spartacus (A. North)
Children's Song No. 10 (C. Corea)
Mesophase I (Y. Delez)
Boréales (Y. Delez)
Like Someone in Love (V. Heusen)
Clapperclowe (J. Taylor)
Mesophase II (Y. Delez)
Seit ich ihn gesehen (R. Schumann)
CD2 | MONOTYPES *
1. - 17.Monotypes (Y. Delez)
18. Sarabande D min BW812 (J.S. Bach)
(* Monotypes are spontaneous improvised pieces)
ABOUT
«ENTRE TEMPS»

Faire et défaire le temps. Etendre et étreindre l'espace. Yannick Delez esquisse l'instant des possibles autant qu'il sonde le vertige des siècles. Il égrène des constellations chromatiques aux moirures irisées, lumières fébriles, précises à s'y perdre. Son lyrisme fragile et fuselé surgit au hasard d'une Suite française, dont les nuits en transit s'évanouissent dans leurs encres éblouissantes. Miniatures et lignes de fuite. Structures et strates. Live ou huis clos. Le piano de Yannick Delez s'éprouve de part et d'autre. C'est sa force, sa beauté, sa cohésion.

Entre les plans. Entre les formes. Entre les lignes. Yannick Delez est un sculpteur en suspension. Ses mains sont liquides lorsqu'elles plongent l'un ou l'autre standard de jazz dans leurs écumes frissonnantes. Du minimalisme à l'Echtzeitmusik, de Schumann à l'improvisation, ce double-album se déploie par courants intimes, par correspondances souterraines, par affinités spectrales. Entre-tons, entre-sons, entre-soi.

Augmentation, diminution, translation. Parce qu'elles redéfinissent sans cesse la géométrie de leur propre écoute, les pièces de Yannick Delez écarquillent les durées, réfractent les rapports, superposent les courbures. S'y révèle une temporalité singulière, extraordinairement personnelle. Non pas un temps linéaire, dramatisé ou topographié, mais un temps polyphonique, rhizomatique. Un temps par ondoiement, à la fois fluide et labyrinthique. Un entre-temps. En son sein s'épanouissent des espaces musicaux sans commune mesure.

Jonas Pulver
«ZWISCHEN ZEITEN»

Die Zeit vor- und zurückdrehen. Den Raum dehnen und umfassen. Yannick Délez skizziert die Möglichkeiten des Augenblicks gleichermassen wie er die Klaviatur der Jahrhunderte ausleuchtet. Die breit gefächerte Palette der schillernden Muster und flirrenden Farben seiner chromatischen Konstellationen ist so präzise, dass man sich darin verliert. Seine zarte und schlanke Lyrik entsteht aus der Spontaneität einer Französischen Suite, deren dunkle Noten in einem farbenfrohen Duktus aufgehen. Miniaturen und Fluchtpunkte. Strukturen und Schichten. Live oder im privaten Rahmen. Das Klavierspiel von Yannick Délez berührt in jeder Weise. Es ist dies seine Kraft, seine Schönheit, seine Kontinuität.

Zwischen den Ebenen. Zwischen den Formen. Zwischen den Zeilen. Yannick Délez ist ein Klangmeister in der Schwebe. Seine Hände lösen sich von ihrer festen Form, wenn sie in diesen oder jenen Standard des Jazz fahren und ihn erfrischend neu zusammenfügen. Von Minimalismus bis Echtzeitmusik, von Schumann bis Improvisation entfaltet sich dieses Album in intimen Läufen, in tiefgründigen Wechselbeziehungen, in facettenreichen Verbindungen. Zwischen Tönen, zwischen Klängen, zwischen sich selbst.

Erhöhung, Verminderung, Übersetzung. Unablässig erfinden die Stücke von Yannick Délez die Geometrie ihres Klangs neu, dehnen die Zeit ins Unermessliche, brechen Beziehungen auf, überlagern sich in stetig neuer Ausprägung. Sie enthüllen eine einzigartige und aussergewöhnlich persönliche Zeitlosigkeit. Die Zeit ist nicht linear, dramatisiert oder topographiert, sie ist polyphonisch, rhizomatisch. Die Zeit wird in Schwingung versetzt, ist gleichzeitig fliessend und ohne Richtung, ist zwischen den Zeiten. Darin eröffnen sich nie dagewesene musikalische Räume.

Jonas Pulver
«BETWEEN TIMES»

Make and unmake time. Expand and embrace space. Yannick Delez sketches possibilities of the moment as much as he probes the giddiness of the centuries. He touches upon chromatic constellations with shimmering iridescence, febrile lights, precise to the point of losing itself.

His fragile and slender lyricism arises randomly from Suite française, whose transitional nights vanish in their dazzling ink. Miniatures and vanishing sight lines. Structures and stratum. Live or behind closed doors. Yannick Delez's piano playing proves itself in both. It's his strength, his beauty, his cohesion. Between plans. Between shapes. Between lines. Yannick Delez is a sculptor in suspension. His hands are liquid as they plunge various jazz standards into their shivering foams. From minimalism to Echtzeitmusik, from Schumann to improvisation, this double album unfolds through intimate currents, through underground correspondences, through spectral affinities. Between tones, between sounds, between oneself.

Augmentation, diminution, translation. Because they endlessly redefine the geometry of their own sound, Yannick Delez's works widen durations, refract connections, superimpose curves revealing a singular and extraordinarily personal temporality. Not a linear time, dramatized or topographied, but a polyphonic and rhizomatic time. An undulating time, both fluid and labyrinthic. A between-time. In its bosom blossoms unparalleled musical spaces.

Jonas Pulver
---
BOREALES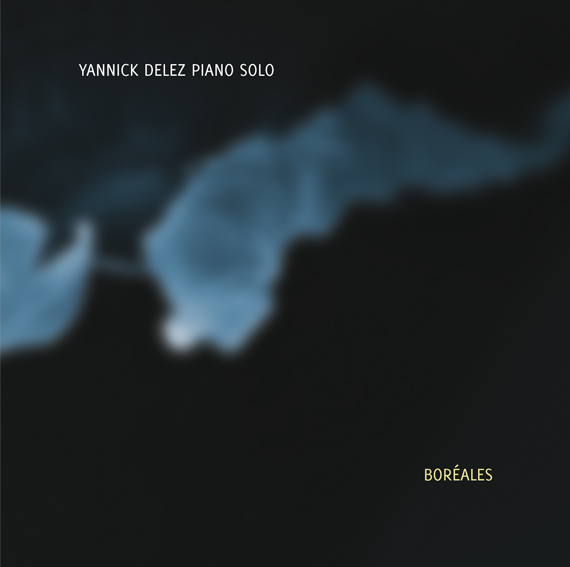 ABOUT
Pour avoir entendu plusieurs fois Yannick Delez en concert, je pensais que seule l'intimité d'une salle attentive offrait à son jeu l'occasion de trouver la pleine mesure de sa spontanéité. Pourtant, son nouveau disque, maîtrisé jusqu'au vertige, restitue fidèlement et mystérieusement la qualité de présence de sa musique. Mystérieusement, car aucun mot ne peut cercler le lyrisme nostalgique et lumineux de cet artiste.
Cette ligne mélodique qui chante éperdument, à la fois libre et généreuse, mais ciselée comme à la pointe sèche; toujours vocale, même quand elle s'immerge et se confond dans les pointillismes obstinés. Toujours vibrante et inventive, même quand elle s'affine, se raréfie jusqu'à l'épure, loin de l'austérité machinale du minimalisme. Ici, les « tournures » ne tournent pas à vide, tant l'art de la variation, parfois infime, imprègne ce clavier, ivre de constamment se renouveler.
Progressions de textures et de temporalités, renversements de plans sonores, « glissements de terrain » de la monophonie à la polyphonie... ce jeu pianistique tient du prodige, il suffit d'écouter « Solar » pour s'en persuader. Et cette virtuosité est si profondément originale et si peu ostentatoire qu'il faut lui reconnaître le plein sens de ce qu'on nomme un « style ». De fait, dans le répertoire de « Boréales », l'art de Yannick Delez est moins étiquetable que jamais: le musicien, en revisitant ses influences, s'en libère tout-à-fait, et s'il nous rappelle qu'il est un pianiste de jazz – non sans ironie dans certaines de ses fulgurantes miniatures – assumant dans une intériorité invraisemblablement inspirée le romantisme de la « Ballade » (« All the things you are », « Vignette »), c'est plus l'esprit tout aussi intime, mais profondément épique de la « Ballade » brahmsienne qui semble animer certaines de ses compositions. (« Concave », « Boréales »).
Nulle monotonie, donc, dans chacune de ces musiques, mais un sens unique de la monochromie: un souffle mélodique qui a intégré et dépassé les canons du jazz, préférant aux enchaînements standardisés l'exploration d'une gamme de couleurs, d'un contexte harmonique subtilement modulé au fil de cheminements imaginaires à la fois limpides et sinueux. Oui, difficile de mettre des mots sur ce lyrisme-là. Au-delà de l'analyse, il provient de cette capacité à capter l'intensité du temps présent, qui est le privilège des très grands musiciens. Il faut donc plonger tout-à-fait dans « Boréales » ou passer son chemin.
Valentin Peiry
Having often heard Yannick Délez in concert, I felt that the full expression of his creative spontaneity revealed itself only while performing before a receptive audience. However, his remarkable new album faithfully and mysteriously expresses the pure presence of his music. I say mysteriously because words alone cannot express this artist's luminous albeit nostalgic lyricism. His free, generous, madly chanting melodic line is as precise as an etching, even as it merges itself in unrelenting pointillism.
Ever vibrant and inventive, it attains a purity of form far removed from minimalism's mechanical austerity. His keyboard immerses itself with minute variation in a constant process of renewal. Development of texture and time, reversal of tonal divisions, sliding from monophony to polyphony... there is something miraculous in this artist's work. Listen to his interpretation of "Solar" and you will understand. His virtuosity is unique and unpretentious. He has indeed created his own distinctive style. With « Boréales », it is more difficult than ever before to define Yannick Délez's art. He revisits and frees himself from the techniques which influenced the development of his work. And if he reminds us that he is a jazz pianist – although not without irony in some of his brilliant "Miniatures" – his "ballads" are ripe with truly inspired romanticism (All The Things You Are / Vignette), and the intimate, intrinsically epic spirit of the Brahms-like ballad that seems to inhabit certain of his compositions (Concave / Boréales).
There is nothing monotone in his music but rather a unique sense of the monochromatic. His is a melodic world which has incorporated and surpassed the rules of jazz. It explores a diversity of colours in subtly modulated harmonic context employing asymmetric crystalline movement rather than ordinary formal construction. It is indeed difficult to describe such lyricism. Leaving all analysis behind, we can truly say that Yannick Délez has the capacity to capture the intensity of the moment which is the privilege of great musicians. One must plunge completely into "Boréales" or simply walk the other way.
Valentin Peiry
---
ROUGES